A major part of automotive ownership is keeping up on routine maintenance and repair. Here at our Ford dealership, we take pride in our ability to help with that process. When you take advantage of our service center, you can ensure you get the most from your car, truck or SUV. From oil changes to tire rotation, we're ready to take on your automotive maintenance needs near Nashville, TN and Fayetteville, TN.
Our factory-trained technicians are ready to go to work for you and provide the automotive service you're in need of. Our team provides professional work which means that they'll get the job done right the first time. So you can return to the roads of Spring Hill, TN and Columbia, TN with confidence, knowing your vehicle is up to the task.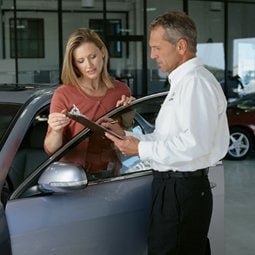 Get the Automotive Service Your Car, Truck or SUV Deserves
For miles your vehicle has served you with loyalty. Repay the favor by servicing it with our Ford technicians. With our online scheduling tool, making your service appointment is made easy. We know that you lead a busy life. Spending your day at the service center is likely not ideal. When you schedule an appointment, you'll know the exact time you can bring your vehicle in for a service.
If your engine light is on, or it's time for a brake check-up, schedule your service today. Once you bring your vehicle in, we'll get any issues diagnosed and help return your car, truck or SUV to its former glory. Schedule today, and see the difference our service center can make.
After you purchase a new Ford, the excitement of taking your new ride out for an adventure often gets in the way of the long-term afterthought of auto service. It's important to take care of your Ford and fortunately for you, we have a strong auto service department in your corner. Unfortunately for others, great service is a luxury not many car owners have at their disposal.
Why Our Auto Service Department?
Instead of taking your car to a generic body shop, why not trust experts who have years of experience with Ford? Our maintenance technicians are adept at handling Ford models and providing the auto service you need to get the job done right. We have strong attention to detail, as well as a commitment to delivering the best auto service we possibly can. You know when you schedule auto service from our dealership near Fayetteville and Columbia TN, great value is at your disposal.
What Sort of Auto Service Do We Provide?
When you service your Ford SUV in Lewisburg or your used car near Nashville, you can have a wide range of repair treated to your ride. Our service technicians can change oil, provide tire rotations, brake pad repair, fix transmissions, replace batteries, offer genuine Ford parts, replace spark plugs, coolant, filter caps, and much more.
Scheduling Service with Us is a Breeze
Just give us a call or fill out an online service form to schedule car repair in Lewisburg. Whether you are from Spring Hill TN, or Shelbyville, we have your back. Your Ford or other used model is in great shape here at Lyons Ford LLC.
Learn More about Our Departments: Finance Center, Parts Center
Find New Ford Vehicles For Sale